ICIS gas benchmarks available on Enmacc energy trading platform
LONDON – ICIS Gas Benchmark pricing can now be used as an index reference for trades that pass through Enmacc's next-generation trading platform for the energy industry, enabling market participants to structure an agreement based on ICIS Day Ahead and Month Ahead assessments on Enmacc's over the counter (OTC) tender platform.
The British NBP and Dutch TTF natural gas Benchmark prices, produced by ICIS, are referenced throughout the world and are the most widely traded and benchmarked across the European natural gas market.
In addition to referencing ICIS TTF and NBP benchmark pricing participants will also be able to choose other ICIS European natural gas Benchmarks on Enmacc's tender platform, including the German NCG and Gaspool and Austrian VTP.
"As the information and price data provider of choice to the European gas industry, we are pleased to partner with Enmacc to further facilitate trade, enabling participants to manage risk with confidence," said Stuart Wood, Head of Energy Strategy . "This reflects why ICIS holds the trust and recognition of energy market participants, given our 30 years of experience in providing independent high-quality pricing information, news and analysis on European gas markets."
Enmacc's entender platform, the independent and biggest OTC request for quotation (RFQ) trading platform for standard and non-standard energy products in Europe, is continuing to digitalise over-the-counter energy trading, making energy procurement and trading a seamless process without the need for time-consuming phone calls, multiple communication streams and the Excel spreadsheets that accompany it. It allows market participants to deal with all counterparties in parallel and in real time while finding and engaging with new counterparties to get better prices and trades.
"ICIS Benchmark gas assessments can now be used as an index reference for trades that pass through Enmacc's next-generation trading platform for the energy industry. This enables market participants to structure a deal based on ICIS Day Ahead and Month Ahead indices on Enmacc's OTC tender platform" Jens Hartmann, Enmacc's CEO, said.
About ICIS
---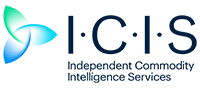 ICIS is a trusted source of global commodity intelligence for the energy, chemical and fertilizer industry. We are a division of RELX, a FTSE 15 company with a market cap of £39.3 billion and an employee base of over 30,000 experts across 40 countries.
At ICIS, we help businesses make strategic decisions, mitigate risk, improve productivity, and capitalise on new opportunities. We make some of the world's most important markets more trusted and predictable by providing data services, thought leadership and decision tools. As a result of our unmatched global presence, we can deliver targeted connected intelligence to influence thousands of decisions across supply chains every single day. We shape the world by connecting markets to optimise the world's valuable resources. With a global team of more than 600 experts, ICIS has employees based in London, New York, Houston, Karlsruhe, Milan, Mumbai, Singapore, Guangzhou, Beijing, Shanghai, Dubai, Sao Paulo, Seoul, Tokyo, and Perth.
About Enmacc
---
Enmacc is Europe's fastest-growing digital OTC energy trading platform and digitises energy trading from end-to-end. Market participants gain speed, efficiency and security. More than 300+ companies and over 1.300+ active traders already use the continuously growing enmacc network of energy suppliers, industrial companies, energy trading houses and municipal utilities for trading in power & gas. All clients can benefit from gaining more market opportunities and liquidity as well as new business potential. enmacc customers can use three trading screens: entender, enmarket and engreen. entender is the independent and largest RFQ platform for standard and non-standard energy products in Europe. enmarket is the independent price screen and open marketplace for the bilateral one-click trading of power & gas standard products. engreen is a state-of-the-art trading screen for Guarantees of Origin (GoOs) and allows for ease of access, process safety and real-time prices to a complex and partly non-transparent market.
Complete documentation and complete, audit-proof archiving of all trading activities on the platform take place automatically. The realtime credit check guarantees trading and process security on all sides.
enmacc was founded in 2016, is based in Munich and has a team of more than 50 people working on the future of energy trading together with theeEnmacc network of more than 300 customers.
For more information, visit www.enmacc.com
Contact: info@enmacc.com
Media contact
---
Anie Begum
Brand & Communications Manager
Anie.begum@icis.com
Mob: +44 7970 967193