US home builder confidence improves after 12 straight monthly declines
Stefan Baumgarten
18-Jan-2023
HOUSTON (ICIS)–US builder confidence in the market for newly built single-family homes improved in January, following 12 straight monthly declines.
The improvement was partly due to "a modest drop in interest rates", the National Association of Home Builders (NAHB) said on Wednesday.
Builder confidence, as measured by the NAHB/Wells Fargo housing market index (HMI), rose by four points from December to 35 in January.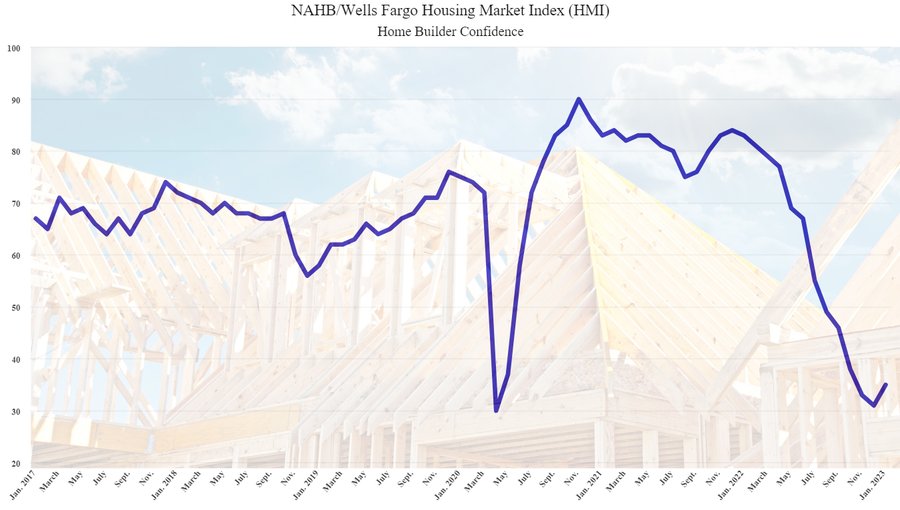 The rise in builder sentiment implies that cycle lows for housing permits and housing starts are likely near, and that a rebound for home building could be underway later in 2023, NAHB said.
In the coming quarters, single-family home building would rise from cycle lows as mortgage rates are expected to trend lower and boost housing affordability, added NAHB chief economist Robert Dietz.
"Improved housing affordability will increase housing demand, as the nation grapples with a structural housing deficit of 1.5m units," Dietz said.
All three HMI indices posted gains for the first time since December 2021.
The HMI index gauging current sales conditions in January rose four points to 40, the component charting sales expectations in the next six months increased two points to 37 and the gauge measuring traffic of prospective buyers increased three points to 23.
BY REGION
The three-month moving average for regional HMI scores registered a one-point gain to 27 in the West.
Meanwhile, the South held steady at 36, the Northeast fell four points to 33 and the Midwest dropped two points to 32.
HOUSING AND CHEMICALS
The housing market is a key consumer of chemicals, driving demand for a wide variety of chemicals, resins and derivative products, such as plastic pipe, insulation, paints and coatings, adhesives and synthetic fibres, among many others.
The white pigment titanium dioxide (TiO2) is used in paints.
Solvents used in paints and coatings include butyl acetate (butac), butyl acrylate (butyl-A), ethyl acetate (etac), glycol ethers, methyl ethyl ketone (MEK) and isopropanol (IPA).
Blends of aliphatic and aromatic solvents are also used to make paints and coatings.
For polymers, expandable polystyrene (EPS) and polyurethane (PU) foam are used in insulation.
Polyurethanes are made of methylene diphenyl diisocyanate (MDI), toluene diisocyanate (TDI) and polyols.
High-density polyethylene (HDPE) is used in pipe. Polyvinyl chloride (PVC) is used to make cladding, window frames, wires and cables, flooring and roofing membranes.
Unsaturated polyester resins (UPR) are used to make coatings and composites.
Vinyl acetate monomer (VAM) is used to make paints and adhesives.
Each new home built represents thousands of dollars' worth of chemicals and derivatives used in the structure, or in the production of component materials.
Additional reporting by Al Greenwood
Please also visit the ICIS topic page on construction
Thumbnail shows the type of hard hat that is typically worn by homebuilders. Image by Shutterstock.
READ MORE
Speak with ICIS
Now, more than ever, dynamic insights are key to navigating complex, volatile commodity markets. Access to expert insights on the latest industry developments and tracking market changes are vital in making sustainable business decisions.

Want to learn about how we can work together to bring you actionable insight and support your business decisions?