What is the role of Ukraine in balancing the European gas market?
Overview:
Discover Ukraine's role in achieving a balanced European gas market as our experts explore natural gas demand. Participate as they unravel why natural gas has plummeted, while European storages are fast filling up? Ukraine has become an attractive option for traders across the continent looking to manage the supply glut. Gas imports into the country soared in the first four months of 2020 and a record number of companies are making use of its vast storage capacity and recently introduced services.

This webinar featured our energy experts Ben Wehterall and Aura Sabadus and their Ukrainian guests Sergiy Makogon and Sergiy Oleksiyenko on 15 May 2020, as they provided an overview of European gas fundamentals and the opportunities for Europe's storage capacity. Download the slides.
The webinar covered:
Ukraine's role in clearing Europe's supply overhang
New transmission and storage services
Integration of Ukraine in European gas markets
Opportunities and challenges in the Ukrainian gas market
Ben Wetherall – Market Development Director – Global Energy
Ben Wetherall is the Market Development Director for Global Energy at ICIS and oversees the company's LNG and natural gas market development activities. He has worked closely with global market participants, governments and regulators, and the European gas industry to provide price reference points and market intelligence which has supported the growth of trade and gas market reforms. He previously edited the ICIS Global LNG portfolio and has published research on LNG and global gas trading and pricing. Prior to joining ICIS in 2010, Ben worked as a consultant for Gas Strategies where he provided commercial advice on upstream, pipeline and LNG projects in Europe, Russia and Asia.
Aura Sabadus – Senior Journalist
Aura Sabadus is a senior journalist, specialising in emerging energy markets. Aura joined ICIS in 2009 and has since spearheaded the company's pricing and news coverage of natural gas and electricity markets in Turkey, Eastern Europe and Ukraine. She is a research associate of the European Centre for Climate, Energy and Resource Security (EUCERS), a think tank affiliated with King's College London. Before joining ICIS, Aura worked as a journalist for UK-based newspapers.
Sergiy Makogon – General Manager, Gas TSO of Ukraine
Sergiy Makogon has been the general manager of the newly-established Gas TSO of Ukraine since May 2019 having been one of the main negotiators of Ukraine's new gas transit contract with Russia.
Prior to this, Sergiy held executive positions in Ukraine's state company Naftogaz, which he joined in 2014, overseeing radical transformations within the company, including the unbundling of its transmission operations and the establishment of a new company, GTSO.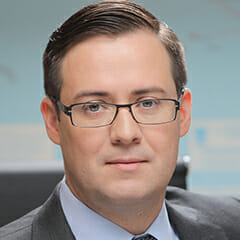 Sergiy Oleksiyenko – CEO of Ukrtransgaz
Sergiy Oleksiyenko is the CEO of Ukrtransgaz, Ukraine's storage system operator, a company owned by Naftogaz. Sergiy first joined Naftogaz in 2014 and has held a number of high-ranking positions from chief advisor to the chairman of the board to member of the board. Sergiy also has extensive experience in the banking sector.
Speak with ICIS
If you are looking to learn how our market intelligence can help you better navigate complex commodity markets, get in touch with us today. Complete your details, submit the contact form and a member of the ICIS team will be in touch.