Nearly two-thirds of UK chemicals & energy businesses will meet 2021 climate targets, ICIS survey reveals
London, 31 August 2021: Nearly two thirds (64%) of energy and chemicals companies in the UK expect to meet their climate targets this year, according to a sentiment survey carried out by ICIS. This figure mirrors the global average. The survey included over 1,000 executives within the energy and chemicals sectors.
71% of the UK executives said their organisation has publicly stated targets regarding climate impact reduction. This is the highest figure in Europe and compares with 15% of respondents in Germany self-reporting publicly stated climate impact targets, and 26% in France.
This may be because UK respondents believe that published targets are the best way to commit to reduce the sector's overall environmental impact – 88% of respondents agreed compared to 76% globally.
Nevertheless, the survey shows a gap between those with climate targets (either internal or publicly stated) and those that were confident of meeting them. While nearly all (99%) of the UK companies surveyed had targets in place, just over a third (34%) are not on track to hit them this year.
The largest incentive for meeting climate change targets among UK companies is the "belief that it is morally correct" (33%). A similar number (30%) are motivated by profit or potential new business opportunities, reflecting the growing profitability of sustainability based businesses across Europe, and the potential cost of ignoring the climate change emergency.
This was closely followed by new regulations set out by governing bodies (29%), highlighting the regulatory pressure companies in the energy and chemicals markets are under when it comes to climate change.
Taken together, this suggests that UK firms believe that sustainable business makes, not just moral sense, but also good business opportunity.
Dean Curtis, President and CEO at ICIS, comments:
"As a result of the current climate crisis, there is mounting pressure on companies from consumers and regulators to rapidly reduce their carbon footprint. This is creating a critical challenge for those in the chemical and energy market to reassess their business models from how and where they source materials to their day-to-day operations."
"It's imperative that chemical and energy companies start making significant shifts to their business operations. The industry has a responsibility to look beyond the boundaries of their own organisations; They need to push for standardized information so that approaches can be compared directly, help generate cradle-to-grave analysis of every potential material, set targets to achieve circularity of resources, and assist consumer education about the pros and cons of each material to enable them to make informed decisions."
Firms in the UK are among the most pessimistic globally on the time frame for tackling the plastic waste crisis. The majority of UK firms believe it will take 3-4 years to tackle the global plastic waste crisis and are more likely than those in other nations to predict it will take more than 4 years.
On a global basis, two-thirds of chemicals firms think that it will take just two years at the most to tackle the globe's plastic waste problems.
Dean Curtis continues:
"Given the current lack of sufficient waste collection capacity globally, average build times for recycling units being 12-18 months, and that it takes up to a further 18 months for sectors such as the packaging industry to test products, it would appear that UK firms are setting a more realistic timeframe for meeting the plastic waste crisis – although at current annual growth rates even this timeframe remains ambitious. Just looking at the first deadline of mandated recycled content from the Single Use Plastics Directive, the markets need to deliver by 2025."
About ICIS
---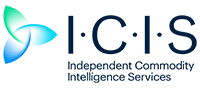 ICIS is a trusted source of global commodity intelligence for the energy, chemical and fertilizer industry. We are a division of RELX, a FTSE 15 company with a market cap of $59 billion and an employee base of over 30,000 experts across 40 countries.
At ICIS, we help businesses make strategic decisions, mitigate risk, improve productivity and capitalise on new opportunities. We make some of the world's most important markets more trusted and predictable by providing data services, thought leadership and decision tools. As a result of our unmatched global presence, we can deliver targeted connected intelligence to influence thousands of decisions across supply chains every single day. We shape the world by connecting markets to optimise the world's valuable resources. With a global team of more than 600 experts, ICIS has employees based in London, New York, Houston, Karlsruhe, Milan, Mumbai, Singapore, Guangzhou, Beijing, Shanghai, Dubai, Sao Paulo, Seoul, Tokyo and Perth.
About RELX
---
RELX Group is a global provider of information and analytics for professional and business customers across industries. The Group serves customers in more than 180 countries and has offices in about 40 countries. It employs approximately 30,000 people of whom almost half are in North America. RELX PLC is a London listed holding company which owns 52.9% of RELX Group. RELX NV is an Amsterdam listed holding company which owns 47.1% of RELX Group. The shares are traded on the London, Amsterdam and New York Stock Exchanges using the following ticker symbols: London: REL; Amsterdam: REN; New York: RELX and RENX. Total market capitalisation is approximately £35bn | €39bn | $46bn. www.relx.com.
About the research
---
The research, commissioned by ICIS, surveyed 1,003 CxOs and Heads of Sustainability working in the chemicals and energy sectors in seven different markets – UK, Germany, France, Middle East, North America, Asia and Brazil. It surveyed business leaders on a range of topics, including doing business with purpose, sustainability and climate impact and digital transformation.
Media contact
---
Charlie Earlam, Rostrum
Email: c.earlam@rostrum.agency
Tel: +07789 202 494
Sadia Begum
Email: c.earlam@rostrum.agency
Tel: +07800 915 866
Anie Begum
Email: anie.begum@icis.com
Tel: +07970 967193
Please click here to read the full report.