Spot LNG prices held below $5.00/MMBtu in the four weeks from mid-June to mid-July on the back of continued strong supply in the global market.
However, spreads between regions were tightening up in the middle of July as European gas prices strengthened on the back of Norwegian maintenance outages. Meanwhile, the approach of Tropical Storm Barry to the US Gulf of Mexico threatened to delay loadings from US plants.
The ICIS East Asia Index (EAX), for spot deliveries to Japan, China, South Korea and Taiwan in August, averaged $4.610/MMBtu over the period. This was largely unchanged on the previous month, gaining just 1%, but down a massive 56% from the same time the previous year.
The Northwest Europe Index (NEX) averaged $3.410/MMBtu across the same period, but rose to as high as $4.275/MMBtu by 15 July. This tightened up the spread between the EAX and the NEX to as low as $0.22/MMBtu in mid-July from over $1.50/MMBtu in early July, after production outages at key European facilities pushed the local gas hubs higher.
That tighter spread may not have a great impact on flows between Asia and Europe. With the market fairly oversupplied in general terms, there has not been a great deal of competition between the regions for cargoes in recent weeks. However, the increase in European spot gas prices will be welcome to US producers looking to send cargoes across the Atlantic, as it improves their profit margins a little from previous razor-thin levels.
Storm approaches Gulf
Tropical Storm Barry was expected to make landfall in the Louisiana area of the Gulf of Mexico over the weekend of 13-14 July. It had the potential to disrupt LNG tanker loadings, as happened following severe rainfall after Hurricane Harvey in August/September of 2017. That hurricane in 2017 also delayed construction work on some new LNG export facilities then under construction.
There were also continued tensions in the Arabian Gulf after the UK seized a tanker of Iranian oil off Gibraltar. The UK started using navy ships to shadow UK oil tankers passing by Iran's waters in the Straits of Hormuz, in case there were attempts to seize a UK tanker in return.
Around a quarter of world LNG exports transit through the Straits of Hormuz, mostly from Qatar, and troubles in the area could have major impacts on LNG trade if they were to escalate. So far, however, there has been no immediate impact on LNG.
Arctic route back in use
The Northern Sea Route east through the Arctic from Russia's Yamal LNG plant is now back in use, with two cargoes having headed to east Asia through this route in recent weeks. The 172,000cbm Vladimir Rusanov was swiftly followed by the 172,000cbm Eduard Toll. During 2018 only four LNG tankers took this Arctic route, with most Yamal cargoes heading west to Europe, either to deliver their cargoes into Europe, or to transfer there onto other ships for onwards delivery.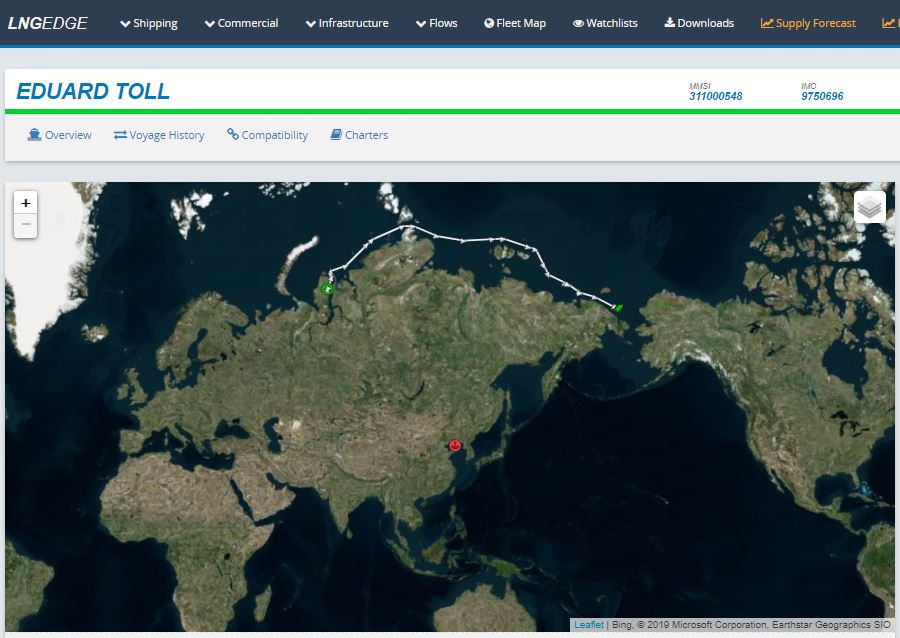 Yamal cargoes have now stopped transferring at the Honningsvaag transfer point in north Norway that had been busy over the winter, and are mainly delivering into Europe or transferring at European terminals such as Gate in the Netherlands and Montoir in France. From the end of the year there could be increased use of the Zeebrugge terminal in Belgium too.
Terminal operator Fluxys is finishing off work to complete a new, fifth storage tank at Zeebrugge, capable of holding 180,000cbm of LNG, which would be used for the temporary storage and transfer of Yamal cargoes, allowing transfers without needing both ships to be in dock and directly connected at the same time.
Maintenance Underway
A string of maintenance works underway around the world has not dented the general oversupply. Equatorial Guinea has not been observed to load any cargoes during the first half of July, suggesting a possible maintenance outage could be underway, after the facility loaded an average of four cargoes per month during April to June.
Trinidad & Tobago's Atlantic LNG suffered a temporary power outage that shut all its production trains briefly in mid-June. Malaysia's Bintulu plant was thought to have maintenance work underway on trains 7 and 8 in July. Australia's North West Shelf is due to carry out work from 26 July to 13 August and 5 September to 1 October.
Meanwhile, Turkey has boosted its import capacity slightly, replacing the 145,000cbm storage capacity Neptune floating storage and regasification unit at Cakmakli with the larger 170,000cbm Turquoise FSRU.