Plastics producers have had a great run over the past 60 years, as demand took off for their products. But now globalisation is being replaced by sustainability. Sadly, therefore, they risk being left with an out-of-date business model, and falling revenues.
Upstream, refinery closures are gathering pace as electric vehicle sales accelerate
Downstream, brand owners and retailers are rapidly rethinking their packaging needs
Companies need to pick up the pace in recycling in 2021. Otherwise, they risk a vicious circle of higher costs and lower sales – which could drive many out of business in the next few years.
The problem is that existing players are always slow to recognise disruption in their own industry.  And the plastic producers are no exception:
They know perfectly well that electric vehicle (EV) sales are now starting to take off in a big way
And they also know their friends and families are busy reducing their use of plastic packaging
But industry 'groupthink' means too many believe that 'none of this could happen to them'.
REFINERY CLOSURES WILL REDUCE FEEDSTOCK SUPPLY AND INCREASE PRICES
Executives have all read the news reports from Shell about the pace of refinery closures:
"It expects to sell all but six refineries and chemical plants globally and is considering closing facilities it cannot sell, the company told investors on its quarterly earnings call".
The direction of travel is clear, with EV/hybrid sales taking 25% of the European market in September following the launch of VW's instantly popular ID.3 EV model. Oil companies know that fossil fuels are already feeling the pressure as the world focuses on meeting net zero emissions by 2050 or earlier.
In the key area of power generation, the collapse of solar/wind prices means it is already economic to scrap fossil fuelled-based power supplies, and build cheaper, cleaner renewable supply instead.  Portugal paid just €11.14/MWh for PV power in the summer, and prices will continue to fall.
Auto buyers are also starting to realise EVs have major advantages versus gasoline/diesel vehicles (Internal Combustion Engines, ICE), as the chart from a new Carbon Tracker report confirms:
"The electrification of transport and falling battery prices enable electric vehicles to compete directly on purchase price with ICE vehicles".
And President-elect Biden knows the US has move quickly to catch up with China and Europe in developing these key industries for the future.
BRAND OWNERS ARE MAKING KEY DECISIONS ON PACKAGING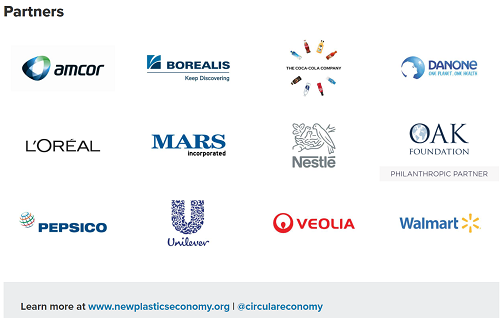 Downstream, the brand owners are feeling the pressure from consumers and governments to use more recycled plastic.  Signatories to the Ellen MacArthur Foundation's Global Commitments include companies representing 20% of all plastic packaging produced globally.  As the chart shows, some major companies have become Partners – but only Borealis from the plastics industry :
Unfortunately many plastics companies are still making only token efforts to move forward
Investing $10m here, and $20m there, isn't going to change the global landscape
Think of the impact if LyondellBasell had invested $2bn in recycling, rather than on its Sasol purchase
Companies rightly argue that glass or paper are worse in terms of environmental  pollution. But the pandemic has confirmed, if proof was needed, that consumers aren't going to back down from their emotional commitment to reducing plastic waste.  And nobody ever wins an argument with a customer.
PLASTICS COMPANIES RISK BEING CAUGHT IN THE MIDDLE
As I noted last week when analysing smartphone sales, the middle ground is now disappearing from the market. If plastics companies don't move quickly to develop recycled business at scale, they will end up with the worst of all possible worlds.  Refinery closures will have removed their main source of feedstock, whilst environmental concerns will have dramatically reduced the market for virgin plastic packaging.
It is time for companies to be bold, as their predecessors were in the 1960s. They saw the market for coal-based chemical output was disappearing, and they moved quickly to switch to oil and gas. As a result, they opened the door to decades of fabulous global growth in terms of both revenue and profit.
The Winners in the New Plastics Economy will make the same far-sighted decision, this time to develop a new business model for the era of sustainability based on recycled feedstock.